Looking for a new mattress? Here's what you need to know.
Buying a mattress has changed a lot in just the past couple decades. The days of haggling with slick salespeople to bring down the price of criminally marked-up mattresses are mostly over. As are the days where the few options available have only slight differences in construction and quality.
Now that the Internet has become a major force in mattress sales, consumers have more choices than ever before. And since many online companies, including us, sell direct-to-consumer, the overpriced mark-ups are gone, replaced with more quality and better value.
That's not to say that buying a mattress is necessarily easier. In fact, when consumers were limited to just a few mattress stores in town, the shortage of choices often made the decision easier. With the cornucopia of different stores that litter the Internet, all selling similar products, it can be hard to know where to go and what to look for. Hopefully these quick tips will make your buying experience as comfortable as the amazing night's sleep you'll get on your new bed!
Materials matter
You may be tempted to think all mattresses are pretty much the same. After all, how different can a bunch of similarly-sized white rectangles really be? In reality, what goes inside a mattress makes a big difference. That's why we source our materials from across the globe – we want to make sure all the components of our mattresses come together to give you the most comfortable sleep possible.
We also care deeply about our environment and about our customers' health and safety, which is why we use natural, organic sources whenever possible. Nothing beats a non-toxic night's sleep!
Stick with springs or go to foam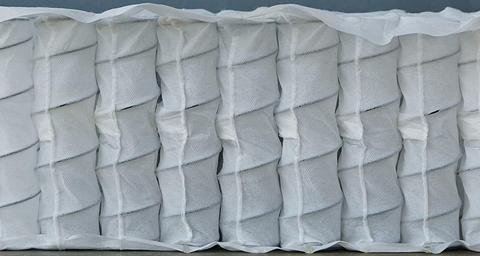 The most important decision you'll have to make when buying a new mattress is whether you want to stick with traditional coil-spring mattresses that have been around for decades or if you want to go for a newer design – the foam mattress. There are no right or wrong answers here, only preferences. Springs tend to be a bit firmer, while foam is generally more responsive to your body.
We offer the best of both worlds with our hybrid mattresses. Our Cedar and Oceano lines have individually wrapped coil-springs underneath a foam top, offering serious support with a soft landing. If you'd prefer a natural latex foam mattress through and through, check out our amazing Ojai series!
You might not know exactly what kind of mattress you want. And even if you do, it can still be hard to know what will give you that perfect fit. That's why we offer free shipping and a full 120 nights to try your mattress and decide if it's right for you. If it isn't, return it on us!
We want to simplify the mattress buying experience by selling directly to our customers. If you have any questions, feel free to live chat with someone from our company through our website. They'll do their best to leave you with a product you'll love. After all, you'll spend a third of your life in bed – it better be a nice place to rest your head!