Standard Shipping: Most products ship via FedEx®. Delivery times vary depending on your distance from our Los Angeles factory. Read about our Order Cancellation Policy
Returns are accepted within 30 days of delivery and you will receive a full refund in the original payment form. We have a one return per household policy on yoga mats.
Experience Video Retail
Speak face-to-face via Zoom® with one of our world class customer experience experts at our real showroom in Fullerton, CA.
SEE THIS PRODUCT LIVE
CALL +1 714-451-4445 M - F: 7a - 4p PST / Sat & Sun: 7a - 4p PST * This team is not able to help with existing orders.
Experience Video Retail
Speak face-to-face via Zoom® with one of our world class customer experience experts.
BOOK A DEMO
CALL +1 714-451-4445 M - F: 7a - 4p PST / Sat & Sun: 7a - 4p PST * This team is not able to help with existing orders.
---
Conscious & Mindful
Organic, Breathable, Comfy, Stable, & Gorgeous
When it comes to your yoga practice, go sustainable. Although a few premium mats may use organic cotton, this is one of the only GOTS certified organic (CU861640) mats on the market made entirely from organic cotton and natural latex. The fabric is woven so the top of the mat is textured and absorptive, wicking away moisture. That means you won't slip or have to wipe down the mat — especially essential when it comes to hot yoga. We also use natural latex, made from real rubber trees, for the anti-skid bottom. It's the ideal thickness and weight to ensure stability for styles of yoga with more active poses or balanced, focused poses. And it's thick enough to be comfortable for forearm and kneeling poses and for yogis with tender knees or achy joints.
Traction & Grip
Colors For Every Flow
A good yoga mat should deftly support your practice. Our Organic Yoga Mat does exactly that. Natural, organic materials are more breathable — ideal for yoga. And don't worry about slipping or wiping down your mat. The textured, woven cotton fabric delivers superior traction and grip naturally to help you maintain balance and proper alignment. When you're done, just air it out and roll it up. It's also machine-washable in cold or warm water. Tumble or line dry for best results.
Super Grip
Natural, FSC®-Certified Latex Does Not Slip
Our latex is FSC® certified. The natural latex comes from rubber trees in tropical regions. Farmers tap the trees for their rubber polymer sap, which they process naturally. Compared to synthetic foams, natural latex takes less energy to produce, lasts longer, and eliminates health concerns correlated with synthetic materials.
Sustainability
Organic Is Better
Stretch in comfort knowing your yoga mat is natural, soft, and sustainable. Our Organic Yoga Mat is a GOTS certified organic product. Is organic worth it? Absolutely. Organic materials are held to a stricter standard — produced without pesticides, herbicides, and fertilizers. This is better for you as well as our family farmers. Best of all, organic cotton breaths easily and wicks away moisture better than any synthetic alternative. Our yoga mat is a completely natural product that's recyclable and biodegradable.
No Towel Needed
The Best Yoga Mat for Hot, Active, & Sweaty Yoga
There's yoga, and then there's hot, Ashtanga, Bikram, and active yoga. Whether you sweat a lot or not, the studio could be heated anywhere from 95 to 115 degrees, so chances are you're going to be dripping. Our Organic Yoga Mat is a mat and a towel. The wetter the mat gets, the better the grip becomes. It will not slip and bunch.

Honest Specs
Our GOTS-certified Organic Yoga Mat is made for Brentwood Home in India. Ships free via FedEx in 3-5 business days. Free returns within 30 days. 1-year limited warranty.
Easy To Clean: Air your mat by hanging it outside. Machine or hand wash in lukewarm or cold water. Use soap scarcely. Do not bleach or use fabric softeners. Do not dry clean. Tumble dry on low heat or line dry. Spinning during a machine wash will reduce the required drying time. Tips: Washing or tumble drying rejuvenates the cushioning of the mat. Adding essential oil while washing or drying can add a fresh aroma to the mat.
Materials: GOTS-certified organic cotton (CU861640), GOTS and FSC®-certified natural Dunlop latex. No polyurethane foam, PVC, PER, TPE, EVA, synthetic rubbers, or adhesives.
The Organic Non-Slip Yoga Mats has the following certifications:
Climate Neutral
Brentwood Home partners with Climate Neutral to measure its carbon footprint across every scope of our business, from our factory and material production to logistics and shipping. We've reduced what we can — even powering our factory with 100% renewable energy — and we've officially offset 100% of the rest. Brentwood is an Avocado Green Brands business, all of which are Climate Neutral Certified. We are one of the only certified mattress and bedding brands in America.
FSC - Latex
Natural latex comes from the Hevea brasiliensis tree. FSC® is considered the "gold standard" designation for resources harvested from forests that are responsibly managed, socially beneficial, environmentally conscious, and economically viable.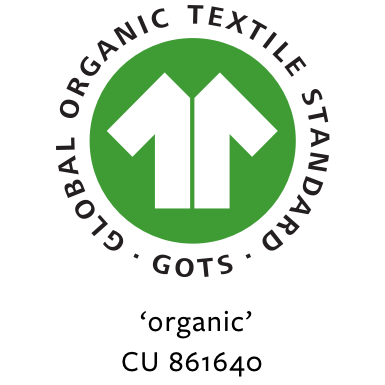 GOTS Organic Certified Product
Our Organic Non-Slip Yoga Mats is a GOTS certified product, and listed on the GOTS public database under our brand name. At the material level, our organic cotton and organic wool are also certified to the Global Organic Textile Standard (GOTS). These renewable and sustainable resources are independently verified, and always ethically and responsibly sourced. They're better for you as well as the people that grow it. And at the factory level, we are proud to operate our own GOTS certified factory in Los Angeles. License #861640.
100% Certified Vegan by Vegan Action
The Organic Non-Slip Yoga Mats are 100% Certified Vegan by Vegan Action. This means the products are free from animal products (like feathers, wool and down) or byproducts that have been tested on animals. In addition, although we do manufacture some items that do use natural animal products like wool, we have stringent requirements in place for cleaning the machines in-between use, so cross-contamination will not occur. If you practice a vegan lifestyle, you can rest assured that your Organic Non-Slip Yoga Mats are aligned with your values.
Yoga Mat Dimensions: 71" x 24" — a bit longer than some standard yoga mats for taller yogis. Our Organic Yoga Mat supports you literally and figuratively — in the studio, during sweaty sequences and healing Nidras, and in the world, where the grounding effects of yoga help improve sleep, improve wound healing, reduce stress, reduce pain, and aid your immune system by altering white blood cell count and inflammatory cytokines responses. The mat is not reversible.
Thickness: 5 mm — The thickness of your yoga mat has a lot to do with comfort. Too thin (1/16"), and your knee may get banged up during crescent lunge. The tradeoff is that thick yoga mats, some as thick as 1/4 inch, can make it harder for you to feel a strong connection to the floor.
Box Dimensions: 28" x 5.75" x 5.25"
Weight: 5.7 lbs. — Shipping weight with box: 7.3 lbs.
SHIPPING:
Standard Shipping: Most products ship via FedEx®. Delivery times vary depending on your distance from our Los Angeles factory.
Optional In-Home Delivery & Setup: For an additional fee per order, our in-home delivery team will schedule a time within a 4-hour window to deliver and set-up your new mattress and, if desired, remove your old mattress, mattress foundation, or mattress boxspring. (Mattress removal only available in some areas, subject to Covid restrictions. Our delivery team can not remove bed frames or other related bedroom furniture.)
Read about our Order Cancellation Policy
TRIALS & RETURNS:
Mattresses, Toppers, Foundations: 1 Year
We offer a one-year sleep guarantee with our mattresses, toppers, and foundations. In order to properly adjust, we require a 30 day adjustment period from delivery. If you decide it isn't right for you after 30 days, then we will schedule a pickup and provide a full refund. You do not have to repackage your mattress and ship it back. For all other eligible returns, including toppers, we may ask you to repackage the item and drop it off at a local donation center. Rest assured, our donation experts will guide you every step of the way. Without exception, we require that your mattress, topper and/or foundation has original law labels attached; your mattress has been used on a proper foundation or supportive base (a box spring, which contains springs, may not be sufficient); your mattress has been properly rotated head-to-toe, once a month for the first six months, then every other month; and everything is in a condition appropriate for donation (free from stains and burns). Note: a proper supportive base requires a center support for Queen, King and California King sizes, or the use of our Easy Foundation. For Queen, King, and California King slatted style bed frames. For proper support, no more than (5) inches between each slat are allowed in order to provide ample structural support for the foundation and user(s). Read the full Mattress Trial Policy Terms & Conditions,
Crib Mattresses & Sheets: 100 Days
We offer a 100-day sleep trial after the date of delivery with all crib mattresses and sheets, with a full refund in the original payment form. Original law labels must be attached and the product must be free from stains.
Yoga Cushions & Mats, Pillows and All Other Non-Furniture Products (except Adjustable Bases): 30 Days
You can return all other items within 30 days of delivery and receive a full refund in the original payment form. Please note: For yoga mats, we have a one return per household policy.
Furniture & Gift Cards: Non-Refundable
A trial is not offered on our furniture and gift cards. Furniture and gift cards are not refundable.
See our help center for information on everything else.
Organic Non-Slip Yoga Mats
- Sage Green
$159
choosing a selection results in a full page refresh