Hybrid vs. Memory Foam Mattresses: What You Need to Know
Consumer memory foam changed the mattress world's landscape when it was introduced in the '90s. By conforming to the quirks of sleepers' individual bodies, memory foam mattresses offer more customized comfort – minimizing pressure points and maximizing the cozy feeling of sinking into a soft bed.
But these mattresses aren't perfect.
One problem is durability – memory foam tends to sag even faster than traditional mattresses' metal springs. Then there are questions of safety, toxicity and environmental responsibility. Memory foam is essentially a molded chunk of unpronounceable petrochemicals, a material that tends to release odorous gases in the first few weeks of use.
Lastly, the warmth. Foam feels great at first, but it gets hotter and hotter over the course of a night, especially for people who naturally run warm. Big hunks of heavy, plasticky chemicals don't release heat well, leading to increasing warmth the longer you lay.
Luckily, mattress makers haven't stopped innovating. The next evolution combined the best of both worlds – the sink of foam with the spring of traditional mattresses. The hybrid mattress.
We think the hybrid has a ton of benefits over traditional memory foam, especially when handcrafted with natural, innovative materials! Here are some of the most important benefits of hybrid mattresses vs memory foam mattresses.
Count on support without sacrificing comfort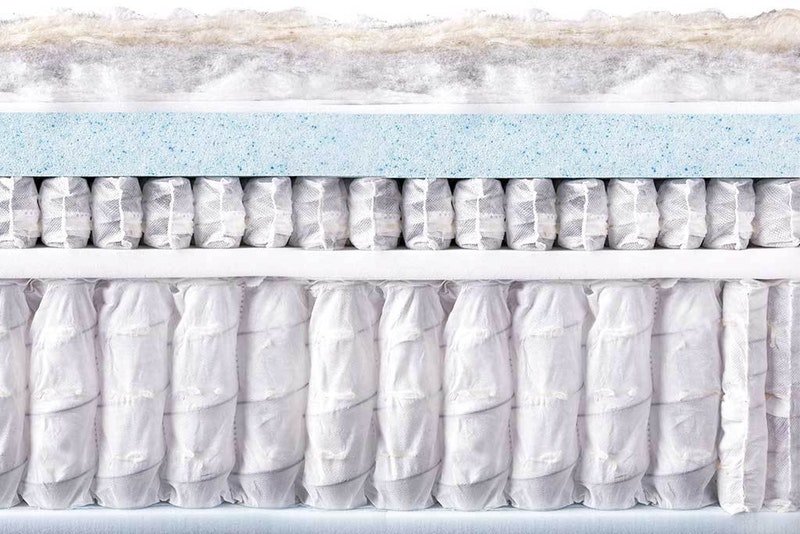 Traditional spring mattresses are great at maintaining support. The metal springs are designed to resist compression – when you lay on them, the mattress springs push back against your body's gravity. That resistance can be great depending on your needs, and the springiness is certainly helpful when you're trying to pop out of bed in the morning.
But for many it's not the best solution. The springs' upward force can cause pressure points. And movement transfers readily through interconnected spring systems, making it more challenging to sleep next to a partner, child or pet.
On the other hand, foam mattresses don't "push back" like metal springs. The sinking feeling is snug and inviting. But sinking into your mattress can sometimes make it difficult to get up and out, especially if your bed is low to the ground. That problem only gets worse as the foam wears out over time, losing what little bounce it began with.
The hybrid mattress mostly overcomes these issues. The foam top provides the comfort of sinking into your sleep space, while the spring foundation gives the support needed for people who prefer a firmer feel. Motion transfer is limited by the foam padding, giving you the freedom to get a midnight snack without waking up your sleeping partner!
Layered cool throughout the night
Another big advantage of hybrid mattresses over traditional memory foam is their ability to vent. Hybrids are made with distinct layers – a soft top resting on a foundation of metal springs – allowing air flow through the layers. The spring base has air space between coils, permitting heat to escape from the memory foam layer and diffuse through the springs.
In our Oceano mattress, individually wrapped coils create passageways of airflow, replacing hot air from the body with cooler surrounding air. On top of that, we pair our heat releasing open cell memory foam with a layer of moisture wicking summerweight New Zealand wool, giving the coolest layer of comfort you can find!
And most importantly – The Brentwood Home difference
Brentwood Home is proud to craft hybrid mattresses of the highest quality. Our Oceano line combines the best qualities of foam with the best qualities of traditional springs and the innovative approach we take to each mattress leads to even better beds for our customers.
Microcoil springs layered on top of larger conventional springs provide extra airflow and a gentle firmness. Our cooling memory foam, made with plant-based BioFoam®, is more durable than conventional polyurethane, giving comfort for years. And all our materials are sustainably sourced, handcrafted thoughtfully with exceptional quality.
With Brentwood Home, you get more than a product – you get a process. Our mattresses are designed with each detail in mind, from the impact on the environment to the impact on your quality of sleep. Our goal is  to make mattresses that are great for the planet and even better for you.
Not the most comfortable sleep you've ever had? We'll give you 120 days to decide, and if it isn't right for you we'll take it back at no cost. Worried the foam will wear out? Take advantage of our 25-year limited warranty, included with all our mattresses.
We believe in our process, and we're sure you will too. Try Brentwood Home today – handcrafted for healthier, blissful sleep!